Find A Wine
timeframe
Find A Beer
brand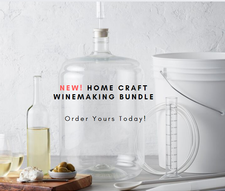 Home Craft Winemaking Bundle
Contact your sales representative about this bundle.
Bundle includes:
1 x Equipment Kit
1 x Diversol
1 x bag of 9x1.50 CRK SUPP AGGL Corks (30 in a bag)
3 x cases of Green Bottles OR 3 x cases of Clear bottles
15% off when purchased as bundle for a total of $150.85.
Please ensure to make a note at the top of your orders that you have selected this item.
**Please note that delivery of this bundle will arrive in multiple boxes, not as one item.